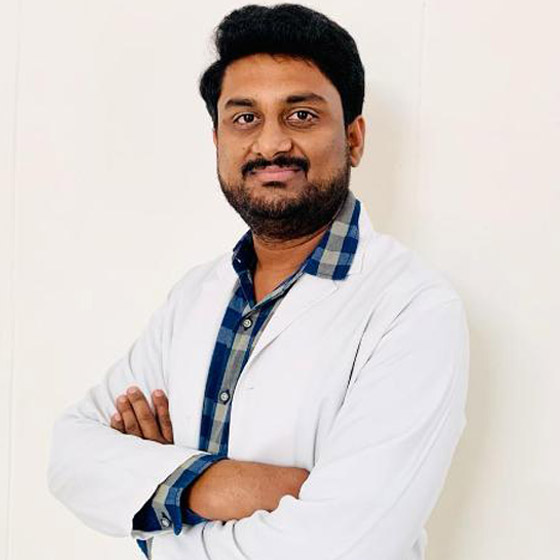 Dr R Ramesh Reddy
MBBS, MD, DM (MEDICAL ONCOLOGY)
We are here for you
Book appointment
MBBS, MD, DM (MEDICAL ONCOLOGY)
MBBS: Kurnool medical college, Kurnool (2007-2013) MD (Radiation Oncology): Sri Venkateswara Institute of Medical Sciences, Tirupati (2015-2018) DM (Medical Oncology): Sri Ramachandra Institute of Higher Education and Research (2018- 2021)
| | |
| --- | --- |
| Specialty | MBBS, MD, DM (MEDICAL ONCOLOGY) |
| | |
| --- | --- |
| Degrees | MBBS: Kurnool medical college, Kurnool (2007-2013) |
Work Days

Monday

Tuesday

Wednesday

Thursday

Friday

Saturday

Sunday
Gender: Male
Address: S/o R. Obul Reddy, 2-1593/12-2, B V Reddy Nagar, Pileru, Chittoor (District), Andhra Pradesh, India. PIN: 517214
Mail: [email protected]
MBBS: Kurnool medical college, Kurnool (2007-2013)
MD (Radiation Oncology): Sri Venkateswara Institute of Medical Sciences, Tirupati (2015-2018)
DM (Medical Oncology): Sri Ramachandra Institute of Higher Education and Research (2018- 2021)
ECMO- September 2021
Assistant professor @ SVIMS, Tirupati From October 2021 to March 2022
Current: Consultant Medical Oncologist @ Surya Global Hospital, Kakinada
Academics:
Presented a paper on "Set up error correction in IMRT of Head and Neck cancers" in national conference ARTICON- 2016
Completed a clinical research in Rectal cancer- "Comparison of Short course radiation and long course chemoradiation".
Published a case report on "Colonic cancer presenting with left axillary lymph nodes" in International Journal of Scientific Research
Presented a poster on "Synchronous dual primary malignancy of urinary bladder and hypopharynx in a 62 year old male patient; An extremely rare phenomenon".
Presented a poster in Lymphocon 2019- "Small cell lymphoma after treatment of Burkitt's lymphoma: a rare event of downgraded lymphoma".
Presented a poster in IMAGe 2020- "Kaleidoscopic presentations of renal impairment in multiple myeloma: A short case series".
Co-authored a publication in Journal of Dr NTR University of Health Sciences on "Rare among the rare- Male triple negative breast cancer".
Won Post graduate debate on Colo- Rectal cancer on 31-03-2021 organised by TAMPOS.
Participated in international preceptorship programme by ESMO- Asia on lung cancer May-June 2021. Pending european hospital visit due to Covid 19.
Completed clinical research on "Olanzapine versus aprepitant in prevention of high emetogenic chemotherapy induced nausea and vomiting- prospective study".